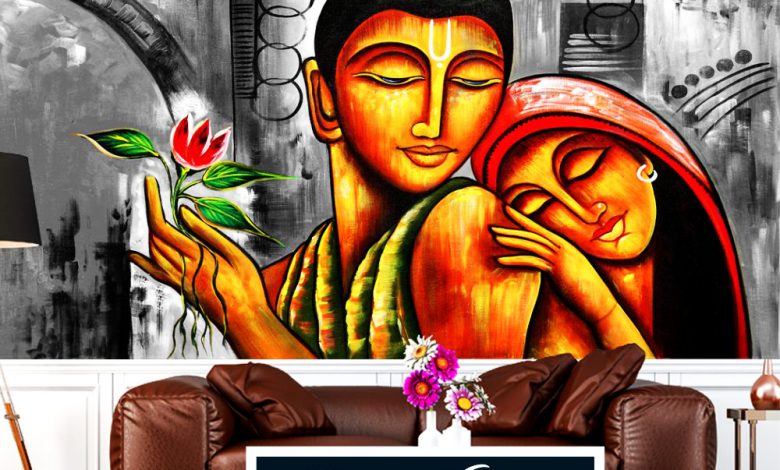 There are innumerable products for embellishing your home, using art is the best one.
The living room is an ideal place for embellishment because that's the place where you spend most of your relaxing weekends. Even when you are having a party in your home, your living room becomes that place where you have your chit-chat sessions. So it is an apt idea to keep it an exclusive piece of art that will grab eyeballs.
What is a Mandala?
A Mandala is a form of art where images are drawn in a circular pattern with geometric techniques. The artists either use monochrome or various colors. This is such a versatile type of art that anyone can put a Mandala painting in their home or office, which will radiate a positive vibe in that space.
Mandala, the word, has its origin in Sanskrit. It means a circle. Keeping a Mandal art in your home as decor is an excellent idea as they are equally mesmerizing and uplifting. Mandala, according to Feng shui, can infuse spiritual energy into your home. One can choose a Mandala design according to the meaning it holds.
Ways of using Mandala Art for Home Décor
You can use Mandela art in your home in various ways. Generally, people use it for decorative purposes, but there is more than a Mandela painting offers.
Let's see how can you use Mandala art in your daily life: 
Feng shui –
When should we do this with the natural energies present in our surroundings? Mandalas are drawn from their center towards the outer edges of Bama. The different shapes and sizes of Mandala have different meanings. People believing in Fen Shui opine that Mandala has got healing powers. Therefore, it helps one to calm your mind and beautify the environment you are living in. According to Feng shui, keeping a Mandala painting in your house not just makes the space look beautiful but brings good luck too. 
Recreation –
A mandala is a form that people with a bit of artistic sensitivity can practice effortlessly. It can act as a good way of relaxing after a stressful week. If you want people to appreciate you, you can also paint small-size dot Mandalas and put them up on the wall in front of your desk. This will also give you a feeling of containment whenever you see your creation. It will also serve the purpose of beautifying your workspace. Be creative and up to create your own Mandalas. You can also opt for dot Mandala Design on ceramic wall plates. Ceramic wall plates look good wherever you put them, go ahead, be creative and Create dot Mandala designs on plates and put them on the wall of your living room. Keep getting compliments for your art whenever guests visit you. 
Mandala Wall art –
Wall art is the best way to brighten up the wall, the whole space, whether it's your home or your office. You can opt for beautiful Mandala murals on your wall.
You can put up Mandala works of various shapes and sizes on a particular wall. It will give a makeover to your space. If you are not a professional painter, you need to hire an artist to paint a large-size Mandala mural on your wall. You can opt for a monochrome look that smudges with your wall color, or you can go for a colorful Mandala that will brighten up the whole space and give it a new dimension. 
Achieving concentration goals –
According to Feng shui, Mandalas can improve concentration, which will help people meditate better. Mandala drawing releases your happy hormones, which help you deal with stressful situations. In this COVID-19 pandemic situation, the importance of Mandala painting is growing because it is helping people to concentrate on their work, increasing productivity. Even watching someone draw a Mandala can be soothing. That's why artists are coming up with their YouTube channels. They are sharing their experiences, teaching their art to other people.  
Kitchen utilities –
Nowadays, many start-ups provide beautiful kitchen utilities like coasters, plates, and spoons with beautiful designs. Coasters are a great way to use Mandala art in your daily life. Whether you are having your evening gossip with a friend or you are working late at night, tea or coffee are our essentials, and hence, coasters too.
Takeaway Home Décor
Art plays a significant role in human life. We can say that art can be a way of rejuvenating yourself. Either by home décor painting one by yourself or by adoring one painted by somebody else. Mandala is a very relaxing form of art loved by everybody. Incorporate wall plates for Home Décor in Mandala art of your choice in your house to level up your style quotient. Mandala drawing is gradually becoming famous for its benefits on mental wellbeing, brain functioning, and happiness. Modern artists have begun to explore Mandala beyond circles and making this art more dynamic.